Dust blue was all the rage for romantic wedding inspiration and we're still seeing hints of it pop up. It's definitely one of my favorite colors to design with, as blue has so much depth to it's palette. Pairing these dusty blue hues with an urban setting really gives off a beautiful urban elegance. And those hues may be delicate and soft, but they still pack some punch.
As seen on Aisle Perfect, Baubles & Bowties, and Aisle Society
For the invitations, I decided to test out dip-dying. Dip dying is when you take your paper and dip it in the bath of color. The longer you leave it in the bath, the darker the saturation of color will be. For these invitations, a quick dunk did the trick. Add a little copper leaf and all the heart-eyes come out. Dip-dying also gives such a light and airy feel to the design. Each dip creates a layer, giving the edges a very feathery and soft look.
This dusty blue was then paired with lush greens, copper metallics, and a bold yellow. This color palette allowed for a wide range of colors, keeping this romantic wedding inspiration from looking overly modern, but still embracing the urban elegance of the venue.
Styled Shoots are for Trying New Things
As I mentioned in my post on styled shoots, this was a great opportunity to test the dip-dying process before offering it to clients… which is a good thing. I did a test dip with a smooth, typical cardstock and the ink just wasn't soaking up. Standard cardstock has a low cotton content, making the paper not as porous. Now, if a client wanted to use the dip-dye method, I could easily explain why cotton paper was the best choice.
The ink soaked up like a sponge using the cotton paper and it was really fun to test different soak times to see the saturation results.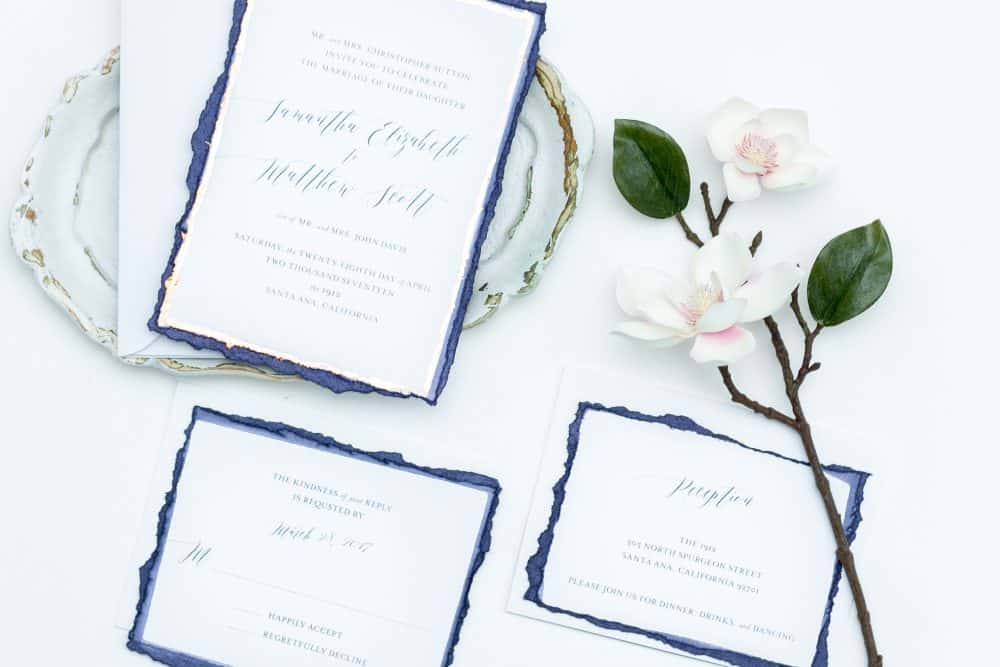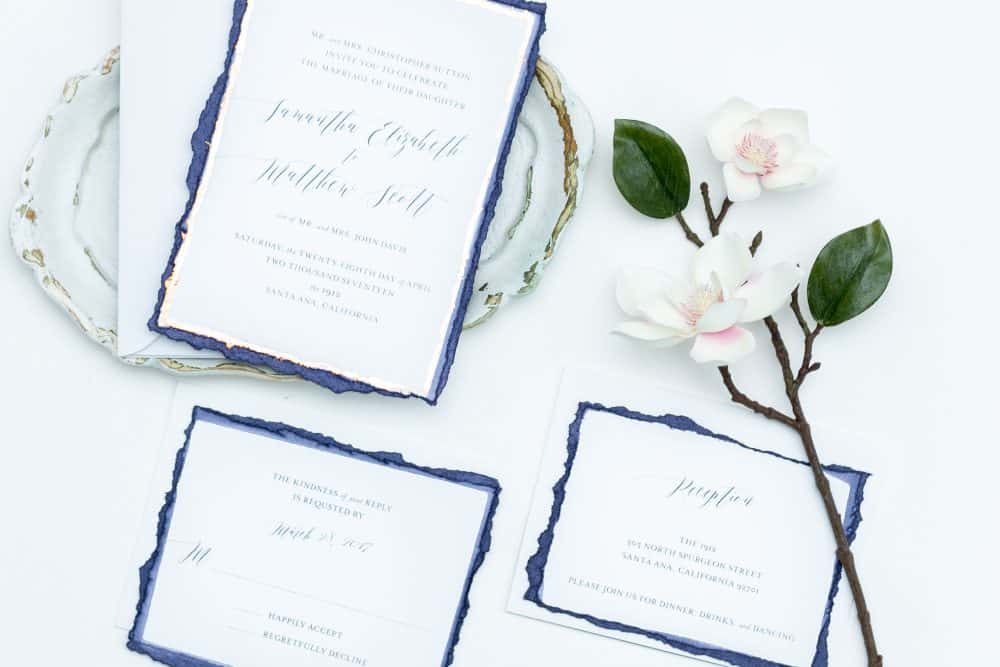 Shoot Vendors
Photographer: Ashley LaPrade Photography  ||  Planner: Jessica Lauren Events  ||  Venue: The 1912  ||  Stationery: Five Dot Design  ||  Rentals: Baker Party Rentals  ||  Laser Cut Details: Happily Ever Etched  ||  Floral: Bloominous ||  Cake: Cakes by Colin  ||  Bridesmaids Dresses: Azazie  ||  Bridal Dress: Azazie  ||  Hairstyling by Juree Martinez for PAGE Beauty  ||  Makeup by Barbie Laurino for PAGE Beauty  ||  Accessories: Styled by TC  ||  Lounge: Classic Party Rentals
---
Love the dip-dye look and want to incorporate it into your wedding stationery? Let's talk!