If you've read my post on Styled Shoots you know that I really love to use these opportunities to try new things and stretch my creative brain. This Modern Industrial Wedding styled shoot we did here in Cincinnati has to not only be one of my favorites, but it's one of my most popular and most requested invitation designs I've done yet. The shoot has been featured on Style Me Pretty and Glamour.com and I've found myself designing for more and more venues in this industrial, yet modern style. I love it.
Quick background on the shoot
There's something wildly romantic about living in the moment and going with the flow… especially when you only have a few hours to get ready for the happiest day of your life. We instructed the bride-to-be to visit Carrie at Carrie Karibo Boutique, choose whichever dress she wanted and then head down to brideFace for hair and makeup. While the bride was having her moment of pampering, Milk + Honey Event Styling and Rentals, Two Little Buds and Five Dot Design prepped the ceremony site. The juxtaposition of full, romantic florals and a full skirt ballgown with broken windows and concrete pillars lends itself to the perfect venue to not only transform on short notice, but enhance the intimate setting. Nathan Peel Photography and his team were on-hand to capture each moment.
Gold leaf was hand-applied to each piece of the invitation to mimic the worn and patchy style of the walls throughout the building – the juxtaposition between luxury and distress. It's a bit of a laborious process, but mimics painting, leaving each piece different and unique to itself.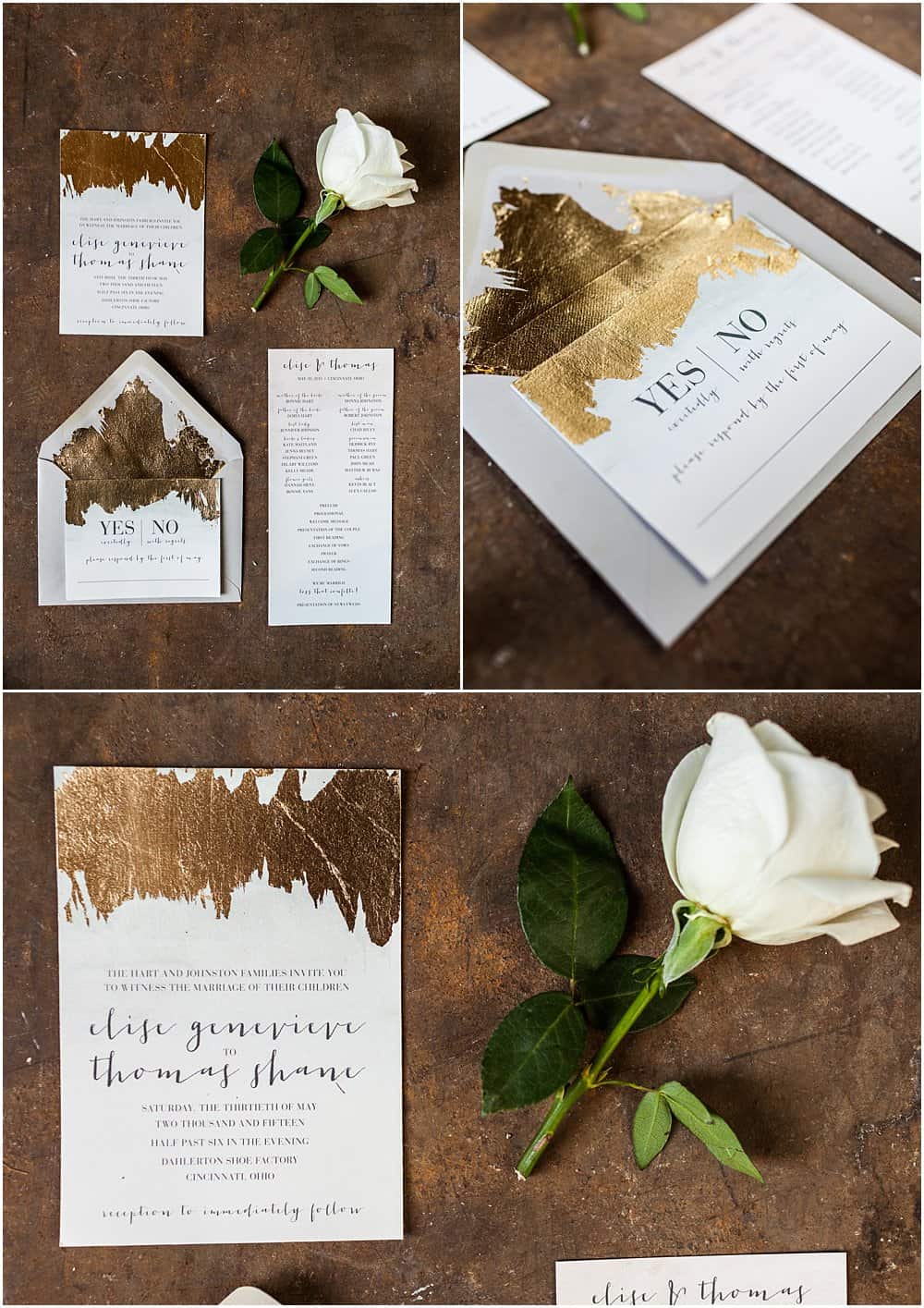 A little confetti toss at the end of the ceremony never hurt anyone.
---
Want to work together? Yeah, me, too. Let's talk invitations