Invitations seem to be the first thing that make the whole wedding process "real" for most brides. You're taking all the details you've been organizing for the past however many months and putting them down on paper to send out into the world. Family and friends will come witness not only the next chapter of your life together, but all the hard work you've put into pulling this event together and making it perfect. So, of course, you want your invitations to be perfect, as well. The basic invitation suite can be broken down into a few simple pieces… some are must-have's, some are nice-to-have's and some are added bonuses. You might put some pieces in different categories and that's perfectly fine. These are just the most popular pieces I have found with my clients.
The Must Have's
The invitation with names, date, time and location
Reception information
RSVP with clear return date and postage paid for returning (and is the correct size for postal regulations)
Mailing envelope
Proper postage
The Nice-to-Have's
Wedding website information
Directions and/or important addresses for the day
Map
Accommodation information
Inner envelope
Envelope liner
Bonus!
Things to do in the area
Itinerary for the weekend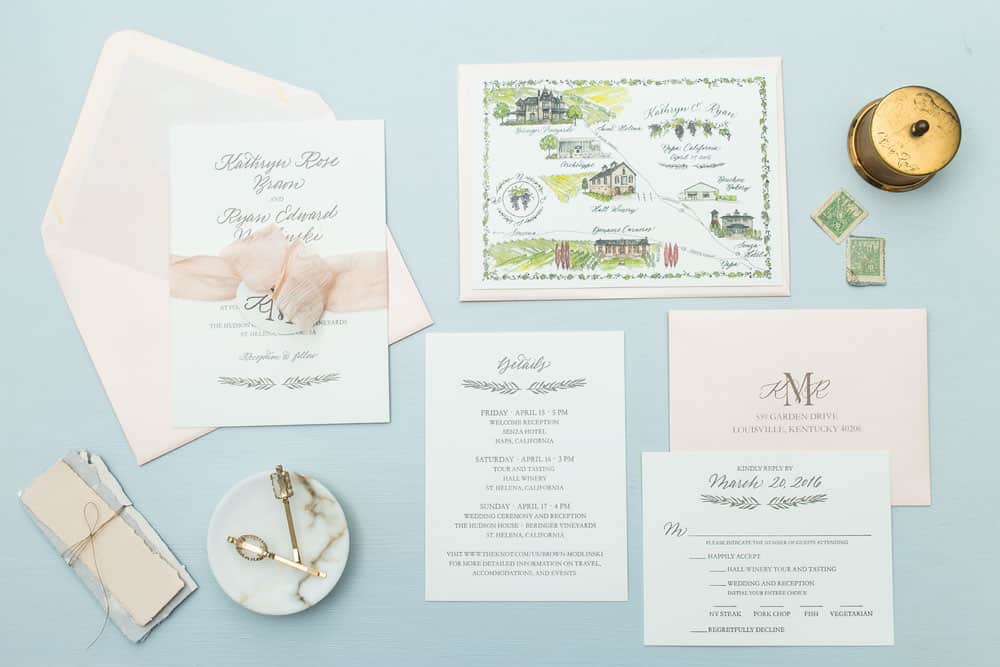 The next question I get from clients involves etiquette and timelines. I'm a fan of Miss Manners, but I'm also a fan of tweaking some of the etiquette rules to fit your needs and your preference. In the end, this is your wedding and I want to make sure you feel comfortable with how we proceed with your invitations.
Save the Dates.
Send them? Don't send them? You can read a more detailed rundown here, but my advice is if you have a majority of your guests that will be traveling and they will either need to save for their trip in or make accommodations, a Save the Date should be sent out. Same goes for if you're wedding is on a holiday weekend, close to a major holiday or on a popular date (like 10.11.12). In the end, those guests will appreciate the opportunity to plan. It's best to send Save the Dates out within six to eight months of the wedding and if international travel will be asked of your guests, twelve months notice is best.
Invitations.
Working backwards from the wedding date seems to make most sense when it comes to invitations. They should be sent out six to eight weeks prior to the wedding, ten to twelve weeks if you're sending international invitations (and don't forget international return postage). The earlier you start the design process, the better, so beginning to think about invitations, addresses, etc. around four to six months before sending out your invitations is best. When I work with a client, I provide a timeline of important dates for us to work by so everyone is on the same schedule.
Addressing.
This one is always a bit confusing, especially because formal etiquette when addressing invitations sometimes goes to the wayside. Proper etiquette would have you addressing an outer envelope with proper salutation (Mr. and Mrs., Miss, etc.) and an inner envelope addressing the guest(s) by their first names or nicknames. I have a great cheat sheet here you can reference if needed.
Let's talk about design.
I talk all about design options here, but to summarize, your four main choices are
DIY : $250 – $400
Online/Catalog : $50 – $700
Semi-Custom : $450 – $900
Custom : $2500 and up
These prices will definitely vary as you look at different sources, but what's most important is you feel comfortable with whomever from which you order and you're happy with the quality of work you're receiving. Not everyone will place wedding stationery as a priority of their wedding, so as long as you're happy, that's all that matters. You can read a little bit more in-depth information on invitations here.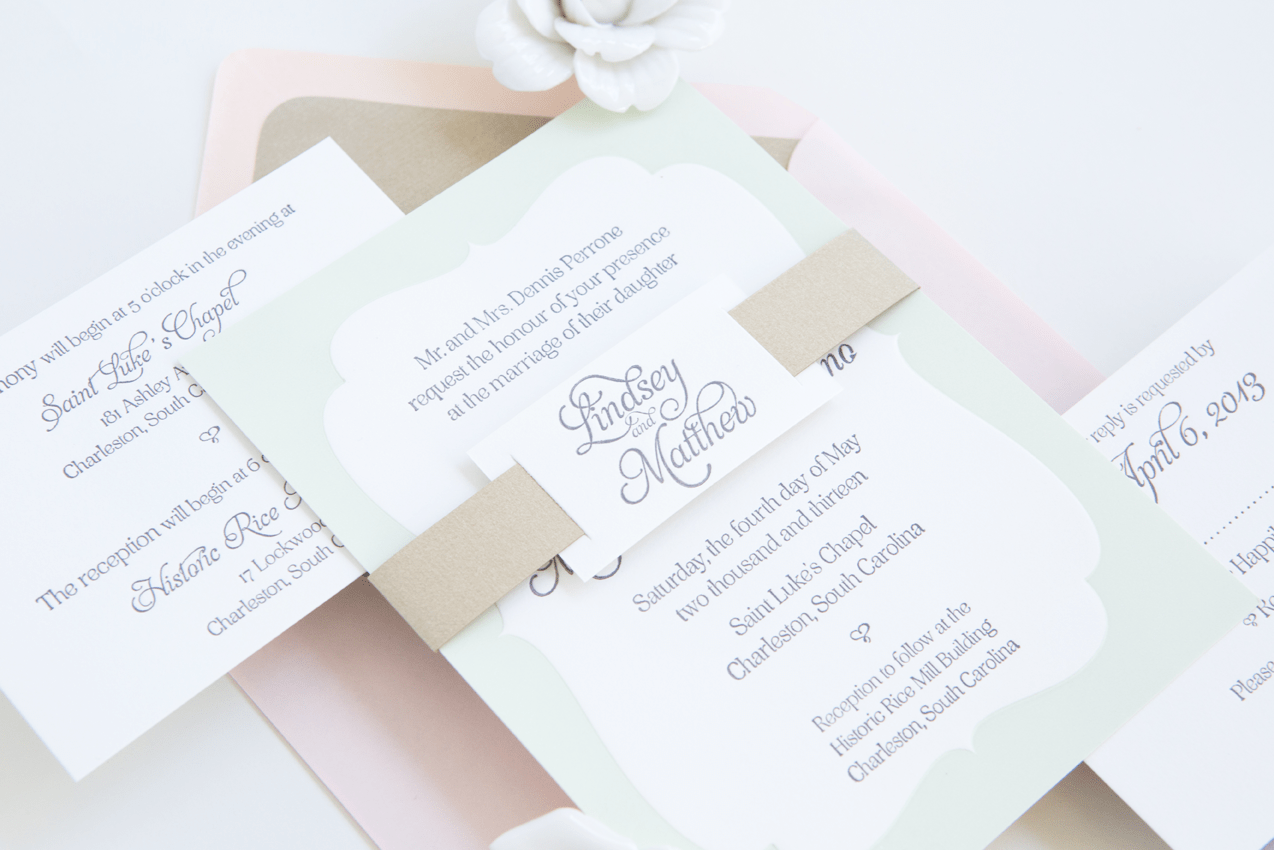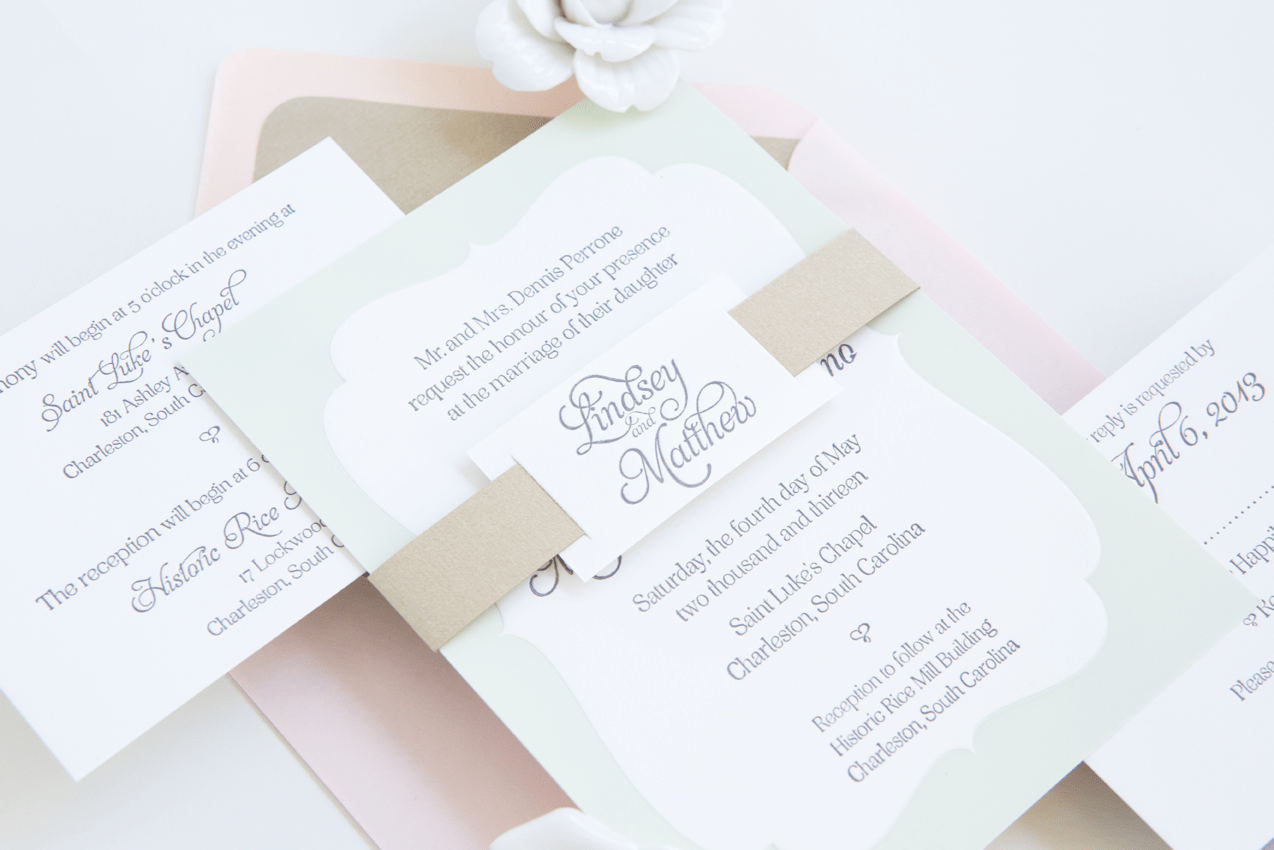 Tips
Ask the postage worker to hand-cancel your wedding invitations (don't worry- they've done this before). Some may charge, others may not. It's best to go in one morning and if they aren't busy, talk to the postal worker and ask them when they prefer you drop off your invitations. Also ask if they would allow you to cancel your invitations off to the side if they seem reluctant to hand-cancel or want to charge. The nicer you are, the more helpful they will be. And you'll likely get 3 different answers from 3 different post offices, so shop around.
Wedding invitations, in most cases, will weigh more than standard postage will cover. It's best to hold off on purchasing postage until you either have a sample to weigh or your designer has provided a weight to you.
If you will be hiring a calligrapher, be mindful of the time they need to complete your addressing. Talk with them to find out how they work best and how they prefer your addresses be sent to them. It may save you some money (and your calligrapher some time) if you opt to have your calligrapher write your return address and print it on both the mailing envelope and RSVP envelope. The style will match and you'll save a little money.
Reception information can be provided at the bottom of the invitation if you don't want to spring for the extra insert.
Be sure to order 15%-20% over your final invitation count to allot for last minute guests, addressing mistakes or samples for vendors/family/friends that might like a copy.
Be mindful of when your caterer will need food numbers and plan your RSVP accordingly. Giving yourself plenty of time to assign seating and have place cards printed up will save last minute scrambles.
Begin seating guests you know will be attending your wedding right away. Then, fill in the rest of the seating charts as RSVPs are returned to get a jump start. Time goes very quickly once the invitations go out, so keeping yourself ahead of the game and organized will only help you in the end.
As seen on Wedding Lovely with updates
---
Want to work together? Yeah, me, too. Let's talk invitations