Some see them as an added cost – just a postcard or a card with some generic info – and some see an opportunity to break away from the formal mold. But really, the importance of Save the Dates is so much more. Not only do Save the Dates allow your guests to do just that – Save the Date on their calendars – but this is a great opportunity to pass along some great planning information. Save the Dates allow you to add travel details for your out-of-town guests, provide your wedding website (even if it's not completely filled out), and mostly allow your guests to start planning for your wedding!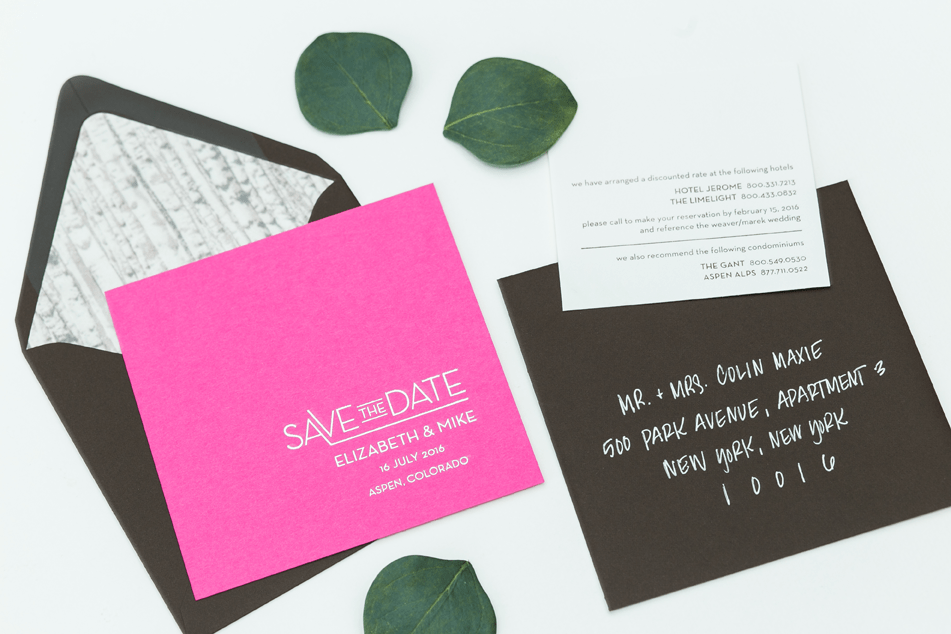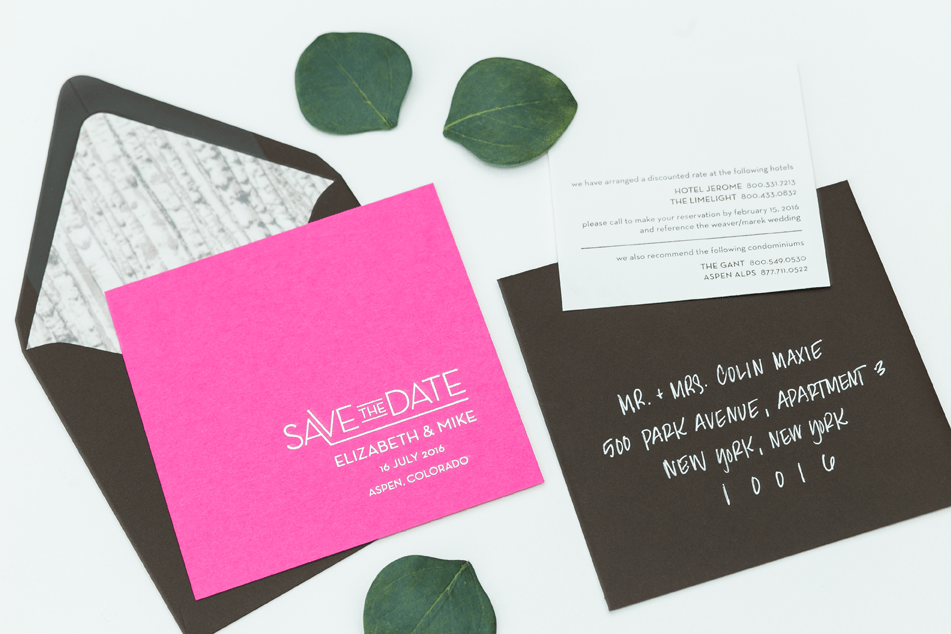 When do I send my Save the Dates?
You'll want to send your Save the Dates out about six months before your wedding. This means starting the process of ordering them no later than a month before you need to mail them out. However, if you're going to have your invitations custom designed, you'll want to find your designer as soon as you can to allow for the creative process to not be rushed (more on this below.)
What do you want to include in your Save the Dates?
Your Names (obvi)
Date (obvi)
Location – even if it's just the city and state
Your wedding website address – go ahead and include this, even if you don't have all the information flushed out. You can even make a note for guests to continue to check your site (you can give dates if you need deadlines or leave it open) for updated information. Whatever you're comfortable with telling your guests.
What are the benefits of Save the Dates?
Give yourself a little more time to get your invitations out. We get into the Invitation timeline here, but your drop-dead date to send out Invitations is 6 weeks before your wedding. If you've sent out Save the Dates, you can take advantage of those extra two weeks to get those Invitations out because your guests have had all their travel information for months.
Show your personality! In most cases, your invitations are going to formal, or at least formal-ish. Save the Dates allow you to break out of the box and show your guests a different side of you – if you so choose. You may find yourself drawn to less formal designs for your Save the Dates, so go for it!
They don't necessarily need to match your invitations. You'll most likely have the majority of your decor details mapped out, but you may not have concrete decisions made (and that's totally okay). You may have an idea of what you want your invitations to look like, but chances are they aren't set in stone. Save the Dates can hint at your colors or a few details of the wedding, but it's the Invitations that set the tone of your wedding (that idea is explained here), so your Save the Dates can step outside of the overall wedding design concept.
Use those engagement photo! Engagement photos are a great way to get comfortable with your photographer, but more often than not, your guests don't get to see them! Use one photo, use a few different photos – it's totally up to you!
To whom do I send Save the Dates?
Sending Save the Dates to all your guests is a great gesture, but if you're on a tighter budget, sending them to just your out-of-town guests would be most appreciated. The extra time will allow your guests to research the area and if you have your hotel blocks set up, they can book their flights, transportation, and hotel rooms well in advance to try and take advantage of travel discounts.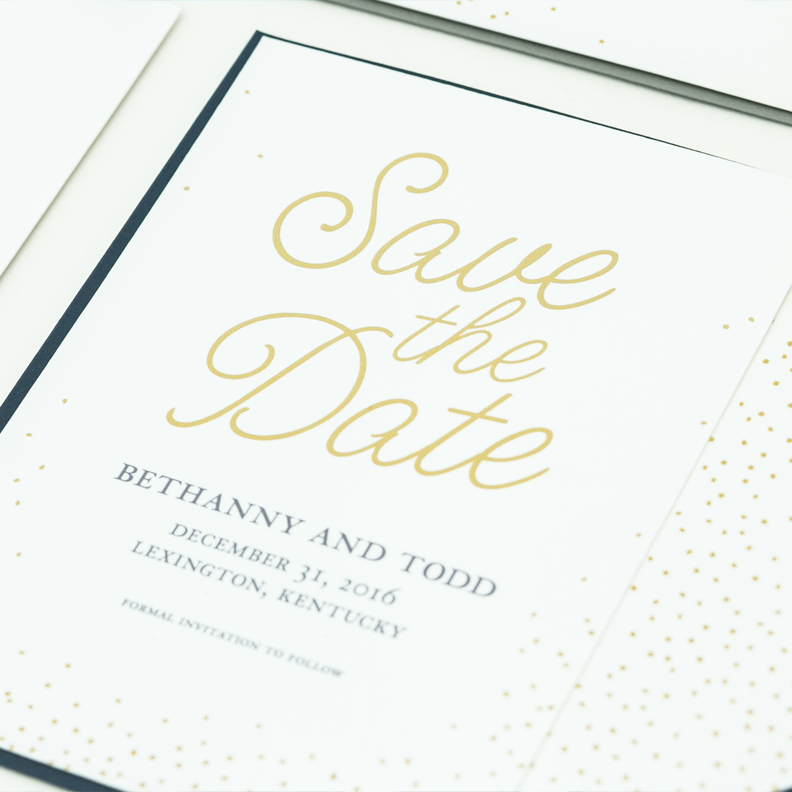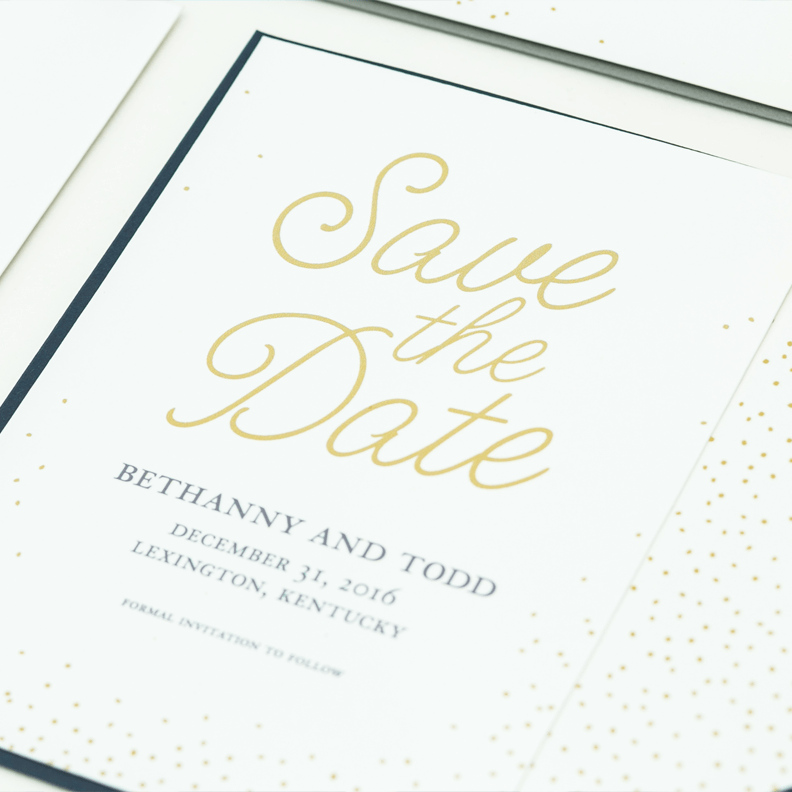 What are some options for finding Save the Dates?
Online – Most sites will allow you to change up colors or choose different envelopes and have some fun options for you to see. These sites usually allow you to order a sample of the designs you like so you can see the quality and a finished product. There are many Etsy sellers that will send you a print-ready PDF, which is a great option but only if you are comfortable working with a printer and choosing the correct envelopes. The printable option will also take more of your time. Online Save the Dates can feel overwhelming if you aren't a good decision maker.
Catalog – If you pop into stationery stores in your area, chances are they have catalogs with pre-designed Save the Dates available. This will allow you to see a physical sample of the design right then and there. You can make the purchase as soon as you find the perfect design and the shop will then call you when they're ready to be picked up! The downside is that usually, there's very little you can change when it comes to catalog designs.
Custom – This is where you'll work with a designer to get exactly what you want or a fresh perspective on your Save the Date. Custom design will allow you more paper and envelope options, allow you to not even use paper if you want something really different, or allow you to make a keepsake. You'll want to allow as much time for design as you can, as this option will take more time than the first two options. If you choose custom design, be sure you're able to make decisions and articulate your thoughts to provide for a smooth working relationship.
What sort of budget should I set aside for Save the Dates?
This will be very dependent on where you find your Save the Dates and how many you need to order. For instance, if you plan to order online, you'll definitely save money ordering a print-ready PDF.  If you plan to work one-on-one with a designer, you're investing in their time and creativity, so you'll want to budget more for this option.
Don't forget postage!
Ya gotta mail these suckers out, so make sure your budget includes postage. Most of your designs will take a Forever First Class stamp, but if you get really creative with your design, you'll want to have your suite weighed to make sure you purchase enough postage and the right postage.
SUPER HELPFUL TIP!
Magnet Save the Dates are still popular but please please PLEASE be sure to mail your magnet with a piece of chipboard covering the magnet side of the Save the Date. These magnets will stick to anything through the envelope (i.e. cabinets at the post office, the reader machine at the post office, etc.), which could mean some of them go missing or arrive late because they were stuck to something in one of the post offices along their journey. Before you take all your envelopes to the post office, test them out – slap them on the fridge, a file cabinet, or you desk at work.
Here is some sample pricing for 100 single card Save the Dates with mailing envelope
Online : $60 – $120
Catalog : $125 – $350
Custom : $500 and up
Addressing
Obviously, if you address the envelopes yourself, you just need to invest the time. But, you also have the option to have your addresses digitally printed or calligraphed. This can range from .50cents an envelope (digital) to $4 an envelope (calligraphy) depending on which option you choose. Keep in mind you'll need both the return address and the mailing address on the envelopes, and there will be a separate charge for that return address to be printed or written. A great option would be to have the return address printed on the back flap and either hand-write the address or have them calligraphed.
I have an excel sheet created for you that may help you organize your addresses, or at least give you an idea on what would work best for you. I also have a word doc set up for just the addresses, in case that's more helpful. And just in case you want to download one more thing, here are some tips on addressing your envelopes that could come in handy.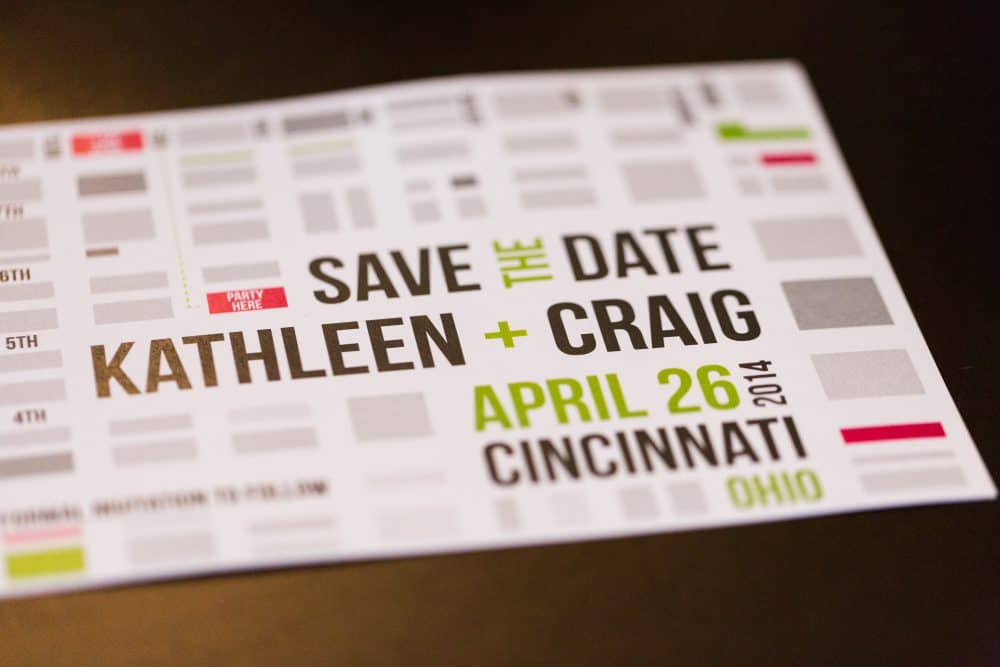 I know, a lot of information, right? It's okay if it all feels a little overwhelming! Just take it one step at a time.
Gather all your address.
You many have the names of your guests, but you may not have their most up-to-date addresses. You won't necessarily need them to start the process – you'll just want to have them by the time you want to mail out.
Start the detail gathering process.
Decide at the very least what city in which you'll be getting married. Get a website if you want one (just Google free wedding website). Start the conversations with hotels if you want to offer accommodation options for your guests.
Decide which design option is best for you and your budget.
Don't be afraid to mix n match! Go ahead and order Save the Dates online and then work with a custom designer on your invitations. It's a great way to save some money and allocate extra funds towards the invitations. Some do it the other way around and invest in a fun Save the Date- it's totally up to you!
Just take a deep breath, make a checklist, grab a glass of wine, and start your research!